The Beginners Guide to Strap-on Sex
Posted by Ashleigh Du Randt on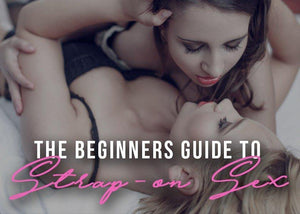 Many gay woman have either done it or thought about it. But it's not as easy as strapping on a dildo and a harness and going for it. Strap-on sex can often-times be just as awkward as regular "penis-in-vagina" intercourse. You could be having a super time until the dildo pops out (or lest we forget the awkward moment when it goes in the wrong hole).
They're not only commonly used among lesbians. Strap-on's can also be used by straight women to penetrate their boyfriends (which is called 'pegging') or by trans men to have penetrative sex their female partners, or even gay guys! The penetrative options are endless.
Here's a simple guide to Strap-on Sex:
1. The Dildo doesn't have to look like a penis.
Some lesbians may love dildos that look like penises, some prefer more sculptural dildo's and some aren't fussy. After-all they all look the same in the dark. Make it fun by browsing our selection of dildo's and choosing one together.
2. Go for quality, body-safe materials.
You don't want to go for something that's really uncomfortable and cheaply made. Imagine it breaks during sex? Never skimp when it comes to sex and what you put on, or in, your body! Most of our dildoes are made with body safe, phthalates free materials. And we a wide range of natural and vegan lubes and stimulants to choose from.
7 inch Hollow Strap-On with Balls
3. Have a Variety of Dildos.
You can totally have different strap-ons and dildoes for different moods and purposes. We have different harnesses for different activities. Whether you're having sex in the shower or your secret meeting place.
4. Lube is your Best Friend.
Definitely do not skimp on a good quality lubricant, or the use thereof. Some dildo's can dry out your vagina, so you'll need lot more than usual, to help it slip in and out with ease.
5. Switch Roles.
You don't have to just stick with one person being the top and one on the bottom. Many couples have a more masculine partner, but in some cases couples are quite androgynous and both enjoy getting "drilled". Some partners may have prior experience with strap-ons and still want to take the reins but allow your partner a turn to take-charge sometimes!
Zoro Knight 6.0 
6. It can  be intimate
Strap-on sex involves really getting to know someone because you have to ask what the other person likes in terms of size, shape, and color (which brings us back to the 'some women don't want the dildo to look anything like a penis at all' point).
7. Use a condom
We recommend using a condom on the dildo for easier clean-up, This allows you to take a breather and not have to immediately wash bodily fluids off the dildo. A lot of condoms are lubricated, which can also tend to help with any dryness!
8. Anticipate what may go wrong
A lot can go wrong with your dildo, O-ring, and harness and once you have everything fitting right with your harness, you still may experience some issues. If you're using multiple dildos or if you're new to strap-ons, you'll find that not all dildos are the same size or fit any harness. Your harness snaps might not be up to the challenge if you become more vigorous and, if they're elastic, can get worn. Seams can also get weaken over time. Another reason not to skimp on a quality harness and make sure everything fits and is tightly in place before beginning so there's no awkwardness.
King Cock Play Hard Universal Harness