The Secrets to Pleasing your Woman!
Posted by Ashleigh Du Randt on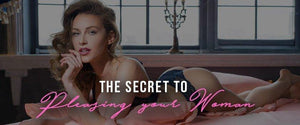 Unlock the secrets to pleasing your woman by getting to know her gadgets!
Use these six lessons about her
sex gadgets
,
and you'll soon become irreplaceable.
A good vibrator is like the Volvo of cars: Powerful, safe and reliable. If she's using something electric, then you know she likes one thing - power! Take a look at our
selection of vibes
if you're keen to buy her a gift that you can both enjoy.
If she's using a
bullet vibe
(these are small and bullet/ egg-shaped) then she's definitely into clitoral stimulation.
Good to know: before getting to the main event, pay some attention to her clitoris. Warm her up with a little clitoral play. When you're into it, move into sex positions that hit her C-spot such as the woman-on-top or reverse cowgirl.
Named after it's two-pronged bunny-ear shape, the
rabbit vibe
 is designed to hit two spots at once - like the Swan Adore
,
which stimulates both the clitoris and the G-spot simultaneously.
Good to know: Take it to the next level by stimulating more than one spot at a time. If your lady is using her toy both internally and externally, shows that you need to pay more attention to her pleasuring her all over her body.
During oral sex, use your tongue to stimulate her clitoris as your fingers push toward her G-spot OR during sex, enter from behind while you reach around to stimulate her C-spot! We also have amazing toys to add to your
finger or oral fun right here!
Dildo's
Sometimes sex toys are straightforward. Take the
dildo
, for example, it's the closest thing to the real thing.
Before you get offended, being swapped for a look-a-like, remember that a dildo-gal likes the same type of equipment you already have but that she may like to be in control of it. 
Good to know: Let her be in charge of controlling the thrusts. That way, she can maneuver you around just how she likes. Put a pillow under her butt if she's on the bottom for deeper penetration or try out our Doggie Style Strap!
 Arousal Oils
Also known as sex oils- these tingling, tantalizing gels or lubes can take pleasure to a whole other level by making her ultra-sensitive down there. This means your woman likes to be aroused with foreplay before getting to the good stuff!
Good to know:
 Get her something new from
our collection of stimulants such as Nipple Nibblers or Coco Licious Arousal Oil
.
Don't be stingy with foreplay and wait until she's all lubed up before going in for the kill! 
According to a 2014 survey by Lelo, 72 percent of sex toy owners use them with their partners. So, if she's already using sex toys, she'll definitely LOVE trying them with you.
Good to know: Find your favorite toy to use together, such the We-Vibe Nova - which comes with an app that you can control!