6 Must-Have Masturbators for Him
Posted by Ashleigh Du Randt on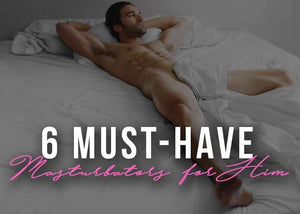 Here are 6 toys we, and most men out there, recommend when it comes to must-have masturbators for him.
Most of them are rather large so if you're looking for something more portable or just want to view the rest of our range take a look at our masturbator's page, right here.
Why choose a single hole when you get to enjoy three different holes. The super soft toy is made of body safe material that can be wrapped around the penis to enjoy every inch of pleasure. Choose from a wild open mouth, spread wide pussy, virgin tight ass or enjoy all three. Slide inside each one of the strokers and surely it feels like the real thing. It is better to use plenty of lube for heavenly experience.
2. Fleshlights 
They are one of the unique categories of male toys that carry exciting features and functions. It is the most common one for men but the most exciting one. It looks like a real vagina and gives a realistic feeling and experience to men. The uniqueness and excitement of them comes from its texture, friendly material and internal patterns. These toys come with a squeeze grip that helps in tightening the strokes with different adjustment options to obtain a suction effect . They also give a stimulatory effect that one could ever have imagined while using toys for immense pleasure. Each product here comes with a different texture inside the sleeve making the wow experience of men come alive.  
Fleshlight Pink Lady
These are the king of male erotic toys. It is commonly used by males searching for artificial but life-like vagina, butt and mouth. The toy is designed to replicate the intense sensations that are felt during intercourse. It helps the users in increasing sexual stamina, improve performance and techniques and heighten up the intense orgasms.
It is a significant product in male toys that gives intense and passionate sexual experience to men who want their me time. The features and functionality of them are simple and easy to use. The materials used are skin friendly thus, making the design of them safe and reliable. The sensation provided by these days are intense as well as gentle at the same time which is a deadly combination giving you immense pleasure. Any single man who wants to explore sex can take the advantage of pocket pussy to fulfill their sexual pleasure.
These toys give stimulation to mind and body at the same time and make you feel surreal. These outstanding ones can be used by both men and women. You just have to start them and execute it at your desired pace, leave it alone and it will do its own work making you feel pleased. The rest is done automatically and you will enjoy the ultimate pleasure. The sexual treat it provides is realistic and beyond imagination. The combination of intense sexual experience with the touch of a bit sensuality is a brutal combination that one could ever have. If you are alone, there is nothing to stop.
What if a toy can replicate real vagina, anal or in that case even breasts? Hands free masturbator are for those solo players that precisely depicts the body of women and does not let men compromise their orgasms. The three popular hands free toys are:
Vaginal: These are life-like replicas of real vaginas of women. Often these come with enough support that provides good strokes and thrust to the penis with best and pleasing orgasms. 

Blowjob: They provide a hands free blow job without any partner's need. Love blowjobs? Why rely on someone else when you can have it with a hands free device that offers ultimate pleasure. 
Anal: They are simply amazing for anal and prostate sex.
6. Auto Blow 2+ 
The Autoblow 2+ can help you get a greater dome compared to a real woman getting down to your penis. It helps you take the masturbation practice as long as you wish without any disturbance or partner tiring off. The toy comes in three different sizes A,B, and C. Size A is for thinner penis, B for regular ones and C for a greater girth. Lots of water based lubricant is necessary for the best possible experience with this. When the fun is over, the mouth sleeve pops out automatically for quick and easy cleaning. It is a body safe and phthalate free toy which can be used even when the partner does not feel like providing a blowjob.