Your guide to picking the sex toy that's right for you.
Posted by Ashleigh Du Randt on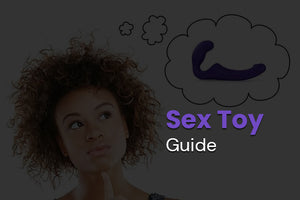 We show you how to choose the sex toys that are right for you and how to use the various product types, so you get the best and most intense experience out of them.
Take note of the various parameters of products, these are important to consider when choosing a sex toy within a specific product category.
Below is an entirely practical instruction guide on how different sex toys are used and maintained.
We have also compiled a number of other practical guides to use. These explain intimate shaving, how you apply Lube and so on. It is useful knowledge, all of which combined, will lead to a better sex life!
Not sure how to choose your your first sex toy? Keep reading...
When you're buying your first sex toy, your budget will probably be one of the biggest factors. Starting with less expensive sex toys is a good way to experiment, but don't just opt for the cheapest item without doing a little research!
Luxury sex toys, like the Silhouette series really are worth the extra spend: they're made from better quality materials, they'll last longer and they're usually rechargeable so you can recoup the cost of batteries. However, it's sensible to know what you like before you splash out on an expensive toy that will be with you for the long haul.
We've put together some tips below to help you choose the best sex toy for you, first time round! 
1. Check the details
When you've spotted a toy in your budget that takes your fancy, check the details on the product page carefully.
How it measures up: Find out just how big that toy is. More important than the overall length is the insertable length, as is the circumference (which is measured at the widest girth of the toy). Will this be a comfortable fit for you?
How it feels: A toy can look rigid in the product picture, when it's actually a flexible friend. Check the nitty gritty of the material specifications here, and take note of whether you can take the toy into the bathroom for underwater play - submersible toys are also easier to keep clean.
Power and speed: Check exactly what types of vibration are in store, as well as what type of power the toy takes and what batteries you need for your sex toy.
2. Read the reviews & watch product video.
Mysexshop products has plenty of reviews written by real people who have bought, used and rated our sex toys. When you view a particular product, you'll see it has a star rating. This is a quick and easy way to see how good a product is - the more stars it has, the better.
If you fancy researching more, you can scroll down further and read full reviews about the product including details about how easy it is to use, how powerful it is, how noisy it is and what the packaging is like.
Need quick answer WHATSAPP US NOW ON  071 8272 247