Upgrade your Orgasm with these 6 Toys!
Posted by Mads Viuff on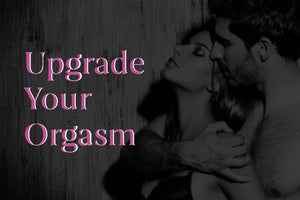 Average, even good, sex isn't acceptable! You need to be having Great sex - Amazing sex . Even if you're going Solo, Upgrade your orgasm with these 6 orgasm-boosters from My Sex Shop! They aren't your run-of-the-mill Toys. They're high-tech, high-quality and designed to get you there. Choose your favorite and get ready for next-level orgasms!
1. Come Closer | Clit & Body | Wand
A rechargeable handeld massager. Designed to bring power and luxury to a brimming peak, the Bodywand Rechargeable Massager oozes style and grace. One of the most luxurious rechargeable massagers on the market, this classy wand is for total body relaxation. With 10 different massage modes and amazing massage intensities to choose from, you start gently and work your way up to a deep tissue massage. Thanks to the inbuilt rechargeable battery you can enjoy the convenience of portability without sacrificing power. Rechargeable massagers bring you the very best massage experience from handheld massagers.
2. Satisfyer Pro 2 | Air Pulse Stimulator
A re-imagined version of the famed Satisfyer Pro 2, the Next Generation combines a silky scooped silicone treatment tip with eleven modes of undulating Pressure Wave suction, a waterproof design and convenient re-charge potential. Contoured to fit comfortably in hand, the Pro 2 can be directed easily over and around the body- the sleeker shape allows for lots of play possibilities during foreplay and sex. Circling the sensitive clitoris, the Pro 2's enlarged treatment tip protrudes at a natural angle from the smooth base. As opposed to same-old vibration, this stimulator employs gently throbbing suction and pressure that resonates deeply and extremely pleasurably. Aside from the toe-curling sensation that results from proper placement, the Satisfyer Pro 2's noise level drops dramatically when in perfect position over the clitoris.
Thrusting vibrator creates a sensation unlike any other sex toy. Massaging your deepest erogenous zones with ease, a thrusting dildo does all the hard work, so you don't have to. If you are looking for the best of both worlds, choose one of our thrusting rabbit vibrators.
With an unbelievably powerful thrusting motion, this dual vibrator fulfills your wildest fantasies. Keep the Cha-Cha's thrusting motion smooth and steady or speed things up for fast action stimulation. The incredible thrusting combined with a tried and true rabbit clitoral shape that provides toe curling vibrations, will take your pleasure to mind blowing new heights.
Made of silicone, safe, odorless, smooth and skin-friendly.
It is waterproof and mute, easy to clean.10 kinds of vibration modes, remote control, Smart heating, bring you more enjoyment. Dual-motor vibrators and with a cock ring, ensures stronger and harder erections for better performance. Low noise design makes you enjoy sex pleasure silently and protects your privacy.
5. Vibes of New York | Ribbed Suction Massager Vibe | Lavender
Hopping aboard the hottest pleasure train around on its way to the big city (or into your bedroom), the silky Vibes Of New York Ribbed Suction Massager offers up ten pulsating modes of classic vibration PLUS another seven rhythms of toe-curling, eye-rolling, headboard-ratting clitoral suction for very, very good measure. Tipped gently forward up top, the Ribbed's G seeking shaft immediately begins targeting internal sweet spots. Speaking of sweet spots, this vibe makes absolutely sure that one in particular gets tons of attention. Reaching up from below, a cup surrounds the clitoris as those 7 suction functions we mentioned suck, release, nibble and lick. Suction can be combined with vibration or used solo, as separate buttons activate and vary each function.
Practice makes perfect, especially in the bedroom. The Stamina Training Unit™  ( STU ) was specifically designed to replicate the intense sensations of intercourse, which can help users increase sexual stamina, improve performance and techniques, and heighten and intensify orgasms.