How To Write Awesome Sex Toy Reviews
Posted by mads viuff on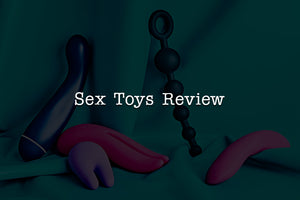 There is no perfect rule book for writing reviews on adult toys, but some of the amateurs are witnessed to make mistakes while writing the reviews. When a person begins reviewing, they need to understand that it is just informational and nothing else. Readers are keen to read only the key points on the toy  and are not interested in going through entire paragraphs. 
Below mentioned are few bare minimum points for writing a review on sex toys which can make the blog interesting one to read.  
Do Not Assume The Readers' Marital Status, Sexual Orientation Or Gender Identity
While writing the reviews, it is very important to understand that assuming readers' gender, marital status or even sexual orientation is not fair. You might not know who the reader is and mentioning only a single gender does not do justice to everyone. It is implied by the reviewers that the reader is a female who is in a relationship with a man. Addressing your review by writing 'ladies', 'your man' and so on would make it one sided. Avoid writing such words and you will be better than the others. 
Sex Toys And People Is Not The Same Thing
"Who needs a man when you have this toy", there is simply no single reason to make this kind of comparison. The review sounds like loving human does not exist and if it does, people does not need them when you have erotic toys as your companion. A masturbation sleeve cannot be compared with a real love from your partner. A review should not also imply that using an adult toy is like cheating on your partner. They are used to enhance the relationship, to spice up the love and to enjoy the extra sensations
Describe The Toy In Few Phrases
There are many reviews that describe the advantages of the toys in big paragraphs which feel like it is a product description. The main thing others read your review for is to understand that they want to hear your personal experience with the toy. "Amazing when used as a clitoral stimulator while having penetrative sex", "incredibly and pleasurably tight" and so on are the phrases readers want to know and  understand while reading your reviews.
Look If The Information Is Already Covered On The Product Page
If there are photos of the toy and its packaging, the review does not need to cover its appearance in big paragraphs. If the product page shows materials and measurements of the toy, it surely does not need to be covered in the review because that becomes overlapping. Customers are interested in reading the personal experiences if any or the important things about the toy that are experienced by the reviewers. They want to know how noisy the toy is, how strong the vibrations are, if it can be used in public places and so on. 
Do Not Generalize In Your Review
When you give statements about the readers, do not generalize. For example, all women love pink is a worldwide generalized statement, all men want to have bigger dick for better pleasure, women only use erotic toys when they are single, feel lonely or their male partners are not present and so on. These generalized statements can give a negative effect to your review and customers can also feel offended.
Have A Well Rounded View, Do Not Serve Too Many Masters
Reviews are read by all kinds of people, thus if something does not work for your body or does not suit your taste preference does not mean that everyone will be having the same experience. By serving too many masters means reviewing products of too many companies. Reviewing for several companies means that none of them are receiving your best one. It is seen that successful reviewers tend to connect with a handful of companies that they like and respect. These are the ones who show support and loyalty towards the companies they deal with. 
You Should Absolutely Know What You Are Speaking
Reviewing products does not work positively if you have a lot of misconceptions and lack of understanding towards that product. Reviewers should take extra time to understand the business and its products because you cannot speak on things that you know nothing about. It is preferable to ask rather than giving a negative impression to the readers.
Keep It Informative But Short And Sweet
Readers do not spend much time reading the entire paragraphs if it's too long. Make sure the pros, cons and bottom line is added to cover all the key points. The best reviews tend to range from 4-10 paragraphs maximum in length. The buyer does not need to know the ins and outs of your experience when it comes to your story so keep the personal and adult stories out of the realm. 
Conclusion
An adult toy review should be very crisp and on point so that the readers and the customers can make the buying decision very quickly. Also, reviews should not involve anything that confuses the clients. At the end of the review, re read the blog when you have finished writing it and make sure you have added what the product does, what are best and worst  features of the product, writer's experience after using the toy and explained thoroughly why the product would be or would not be right for someone.