Sex Positions Perfect for Using Toys
Posted by Ashleigh Du Randt on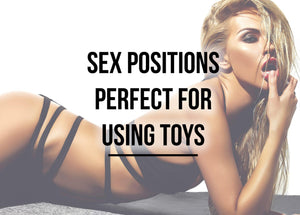 Sex toy technology hasn't replaced the sublime pleasure of skin on skin with someone you're intimate with, but gosh, sometimes it gets real close. Whether you need a little help getting to where you need to go, want to learn some new tricks, or want to have some really, really crazy orgasms, we have put together a few sex positions to incorporate toys into your sexy time.
If you're with someone who's not quite in to the sex toys thing (or even if you're the one who's sceptical about them), start out with a non-threatening 'personal massager' like the one below.
1. PERSONAL MASSUCE 
.
Regular 69 is somehow always a little dissatisfying and intimidating. Or, to be more specific, incredibly awkward and overhyped. If you pay attention to what you're doing with your mouth, it's hard to get fully get into what's going on between your legs. Let the wonders of modern machinery work for you here. Lie facing each other in a sideways 69 but instead of mouths, try a masturbation sleeve on him and have him use a high-end oral simulator on you.
For example:
Hop aboard in the HIGHLY RECOMMENDED, yet kind of hard to do Reverse Cowgirl position. Once you have gotten comfortable and out of your system and getting the hang of it and both well into it, press a powerful vibrator against the area between his balls and his ass. You'll give him strong prostate stimulation and he might quite possibly have the best orgasm of his life. We suggest these two products (Comfortable, slightly curved and intense vibrations for maximum pleasure)
4.

THE MAGICAL VIBRATING PENIS
Once he's hard but not fully erect, have him put on a cock ring. The ring constricts him a little bit, keeping him harder and makes him last longer. You can try something that does a lot for him that turns his penis into a Magic Vibrating Penis, plus it has  vibrating  bunny ears for clitoral pleasure. Move over a little from the edge of the bed, spread your legs open and have him enter you standing, leaning his hands on the bed. Rev that up and go!
If you are into exploring power dynamics and getting so lost in lust that you are quite willing to beg for it, a remote control vibrator is completely going do it for you. Hand him the controls (make sure he's worthy of power, of course) and let him see how crazy he can drive you. Have him tie you to a chair and tend to you as he sees fit. Or, some of the newer models like the
3 in 1 Testicle and Prostate Massager
, it comes with an app so you can pop it in (just to let you know, yoga pants are your friend) and just go about your business, all jacked up on lust while he's screwing around remotely with the intensity and vibration motions. It could also be fun to throw in a bullet. 
GO ON, Have fun!
XXX