Must-Have Vibrators for Her!
Posted by mads viuff on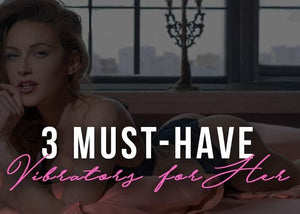 Shopping for vibes can always be confusing and at the same time intimidating especially for the ones who are buying sex toys for the first time. Even if you are your partner are having regular hard core and breath taking sex, there is nothing wrong in investing in some adult toys that give you extra pleasure. Whether you are in a long distance relationship with your partner or have never touched any sex toy before quarantine, this is the perfect opportunity to try the best and moan inducing vibes to your life. 
If you are riding solo, finding an erotic toy for penetration, can be worn by same sex couples, is a travel friendly tiny portable one, is waterproof and even have a quiet mode, we have plethora of options in erotic toys for your choices
Come Closer USB Remote Power Bullet
The Power Bullet is a USB wireless vibrating machine that consists of ten different powerful modes and a long range up to twelve meters. You need to hold the bullet for five seconds to start it and hold it for five seconds to stop it. It is made up of skin friendly silicone material which is non toxic and healthy. It helps in relieving prostate which in turn improves sexual function. It also has a waterproof design, thus can be used even while taking shower or in the pool or bathtub. It has a super strong vibration that brings an exciting and mind blowing experience to the user.
Come Closer Clit And Body Wand
It is a rechargeable handheld massager that is designed to bring power and luxury at its peak. It oozes out the style and grace and is for total body relaxation. It comes with ten different massaging modes along with amazing varieties of massaging intensities. It starts the work gently with a deep tissue massage. It has a smooth and soft silicone head and an inbuilt battery due to which it can be ported anywhere without sacrificing the power
Embrace Body Wand Massager
The sex toy is perfect for full body pleasure especially a targeted clitoral fun. This premium and waterproof sex toy consists of seven different functions of vibrations, pulsations and escalations for a thrilling and gratifying experience. It is crafted with a body safe silicone material and is fully USB rechargeable. The two independently operated motors provide a great new adventure in the bedroom with dual sensual stimulation. Let this adult toy take you for a more thrilling experience and enjoy it to the fullest with incredible satisfaction.
Come Closer G-Spot Vibrator
It is a realistic silicone vibrating toy with a curved shaft that helps in stimulating your pleasant areas. Its smoothly curved bulbous head lovingly targets your G-spot for unbridled exhilaration. It consists of ten different vibration settings that give an unlimited variety of experiences and is made of body safe,non toxic, non porous and medically approved silicone material. With every charge of the toy, you can enjoy several hours of pleasure.
Squeeze Me The Swan Kiss Vibrator
The Swan Kiss vibrating toy works on a simple rule, the stronger you squeeze, the more you get pleased. It is made up of smooth and soft silicone finish along with being phthalate and latex free. The surface of the toy is virtually seamless making it waterproof and fully submersible. It is fully rechargeable using a USB cord with a luxurious storage pouch. Its compact form makes it perfect for on the go fun and portability. The Swan Kiss vibrating machine is incredibly satisfying and a perfect blend of power and pleasure.
Come Closer Little Rabbit Vibrator 
It is a sleek, powerful and rechargeable erotic toy that is a smooth operator with a wicked game plan. It consists of two motors for a sensational blended stimulation and ten different frequency modes that allows you to choose the level of sensation that you wish to reach. The curved shaft of the toy stimulates the G-spot while the thick and flexible rabbit ears stimulates the clitoris with thrilling vibrations. Enjoy the double stimulating vibrations that fully massages the entire vaginal area along with providing the best and intense sensations
Silicone Rechargeable Finger Vibe
You would be hard pressed to feel a practiced finger seeking and pleasuring your hot spots. The Finger vibe is perfectly for alone time but also an amazing choice for the couple that use sex toys during sex or before it during foreplay. It also gives an extra attention to clitoris while having sex. It consists of ten different modes of powerful stimulation and is conveniently rechargeable via USB cord. It is made of body safe material which is perfect for pleasure seekers and for the ones who have sensitive skin.
Fetish Fantasy Series Remote Control Vibrating Panties 
The vibrating panties are the perfect piece of spontaneous and buzzing pleasure when you are out and about. These have a micro bullet fit inside them that can be controlled by a remote. The remote control allows the partner to take full control over your pleasure whenever and wherever they feel to turn you on. The panty has a low rise fitting with a thong finish and a stretchy waistband which is ultra comfortable. The toy consists of twenty different pulsation patterns ranging from light sensual flutter to a strong and stimulating throb. The remote is wireless and thus can be controlled from different rooms, spaces or from the next side of the table. Enjoy the ultimate public seduction with this toy when you please to start the foreplay while having dinner and have a steamy partner pleasure for dessert.
Conclusion
The above mentioned vibrators are must haves for women who want to enjoy a knee wracking sex either with her partner during foreplay or penetrative sex or during her solo play while pleasuring herself and satisfying her needs