Quality Of Sex - Does Size Matter?
Posted by mads Finn viuff on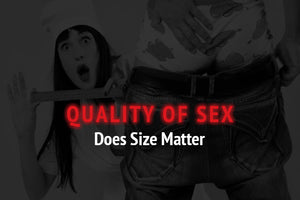 Imagine when you are all set to make your partner happy with a fantastic climax, and penile erection is not enough to have that great penetration? It is one of the most important aspects of intimacy which affects mental health in many ways.
According to a report, Americans within the range of 20 years of age have 80 times sex per year on average, whether partnered or not.  A study on sexual frequency suggests that the partnered couples having sex more than once a week is equal to others with lesser frequencies.
 This study emphasizes the quality of sex than frequency. The quality of sex depends on several factors like mental health, stress, hormonal levels, sexual organ health, and more. While several approaches to achieving good penile strength and length for deep penetrations, choosing the right one is essential.
 Here, we will discuss some of the most significant penis enhancement and enlargement products that can help you achieve superior sex life.
 Renegade Powerhouse Pump can enable amazing erections for your penis through suction technology. One of the most significant aspects of this penis pump is how it makes your erections powerful through the suction effect caused by a silent motor giving a fantastic experience.
Penis pumps are used by many sexologists and advised by experts to treat erectile dysfunction (ED). It is also known as the vacuum erection device that can help your penis get bigger.
There are many such pumps that you can get in the market but when it is all about how to make your penis bigger, Renegade Powerhouse Pump can be a great choice. Not just the functional part, it is also excellent in aesthetics with an attractive modern look and features like a USB recharging facility.
So, you can have uninterrupted fun with your partner and provide superior sexual performance. You can adjust the intensity of suction from different levels provided through tactile buttons. It also has a reliable TPE material that makes it tougher than most others in the market. Penis pumps are a good option for your penis enlargement, but there are several other products, too, like this extender from California Exotics.
Penis extenders provide men with a non-invasive approach for making the penis bigger and even correcting the penile curvatures. These devices are your answer to the question like, "how to make your penis bigger?" and also a way to improve sex life through improvements to the penile shape. So, you will have better erections, higher sexual performance, and increased confidence during intimate moments.
California Exotics penile extender is an excellent product for your sexual performance. It comes with a silicone strap that holds your penis in place while you leverage stretching of the penile. This penile extender comes with screw nuts that help you adjust the extension and a comfortable foram ring to add comfort to your penis.
It also comes with four adjustable rods for different lengths of penile enlargement. Penile extenders do help your penis to get bigger, but if you are looking for something that can also help in masturbation, then a penis ring is the right option.
Penis rings or cock rings are circular bands that wrap around the penis to improve the erection. Apart from that it also helps your erections last longer during sex and even enable stimulations. What adds to this fantastic experience is the pleasure of vibrations that you can leverage through vibrating cock rings.
O-Zone Rechargeable Stretchy Bunny Cockring is one such penis ring with ten different functions for vibrating patterns and authentic silicone material. In addition, it comes with a highly functional controller for complete control of the vibrations.
This device is USB rechargeable, waterproof, and lasts about 60 minutes once charged fully. You can have excellent penile extensions, stimulations, and fantastic sex. If you want to make your penis bigger for amazing sexual performance, cock sheath is also a fantastic product.
Oxballs Daddy Cock & Ball Sheath works like a second skin for your penis and testicles. It enhances the penis length through the addition of girth, which makes the penetrations more enjoyable for your partner. Such sheaths are often considered a penile extender and help improve the sexual pleasure that your partner will have during the sex.
This extender from Oxballs is made of non-toxic flex-TPR material, 7.5 inches in length, with a rubbery sack. It adjusts according to the shape of your penis to create an amazing fit offering a stretch with an erection.
Conclusion

There is no limit to the number of products available in the market to make your penis bigger and have long-lasting erections. However, choosing the right product can make all the difference. With an excellent penile enhancement device, you can not only improve erections but induce sexual pleasure to your intimate routine with the partner, enabling superior orgasms.