Create your Fetish Red Room
Posted by Ashleigh Du Randt on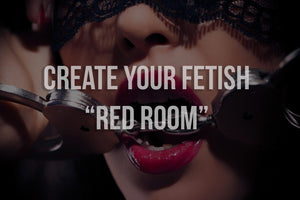 Create your Fetish Red Room: We are all pretty aware of 50 Shades of Grey which is the steamiest movie created this generation. Some may even say they're are obsessed with the story of Anastasia Steele and Christian Grey. One of the most iconic settings in the 50 Shades universe is the "Red Room of Pain," also referred to, among fans, as simply "The Red Room."
The Red Room is Christian Grey's pleasure dungeon, where he takes all of his "subs". Ana is shocked when she first sees the red room, and many 50 Shades fans have often fantasized about having a Red Room of their own.
Here's how to create your own Red Room at home:
Lock up your lover and explore your fetish fantasies with these fabulous Furry Cuffs. Lined with velvety-soft faux fur, these heavy-duty cuffs keep your lover comfortably constrained and looking sexy
The locking mechanism has a quick-release button in case you lose the key, and their sturdy design ensures they're made to play hard. You'll both love the sensuous feel of the soft fur as it teases and titillates!
Capturing the wrist and ankles of an object of desire in four gorgeously patterned brocade cuffs, the Bar even dramatically restricts a submissive subject's range of movement while holding the legs and arms close above or behind the body
Offering all the undeniably sexy control of a hogtie system while providing all the exciting position possibilities of a spreader bar, Scandal's beautifully designed Bondage Bar is an extremely versatile piece created to fulfill a range of devious fantasies.
Can you keep a secret? The secret is the Date Night Remote Control Vibrating Bullet. Tuck it away discreetly inside a pair of sexy, string bikini G-string, this remote controlled micro-bullet is designed to rock your world!
Give yourself over to the thrilling world of submission and dominance with the Unleashed™ Surrender Set. This travel-ready set includes everything needed to give yourself over to pleasure and your lover's every erotic whim
This 8-piece kink kit includes a set of 2 fabric ties, double padded eye mask, 2 sets of fully adjustable universal cuffs, collapsible spreader bar, breathable ball gag and roll up travel case with hook. No matter how you like to bind, a set of sensual fabric ties and two sets of totally adjustable cuffs can be used on ankles or wrists for versatile restraint play
Designed for comfort, the firm, non-toxic rubber ball has breathing holes for your willing submissive. The high quality, leather strap measures 10 inches in length. Simply adjust the buckle for the perfect fit.
The high quality, leather strap of the Fetish Breathable Ball Gag measures 10 inches in length. Simply adjust the buckle for the perfect fit. Add to the fantasy by covering your partner's eyes with the mask.
Turn any door into a love swing in just a few minutes! Enjoy positions you never thought were possible and explore your fetish fantasies
Fully adjustable to ensure comfort not matter how tall or short you are, this easy-to-use sex swing is ideal for those in rented accommodation or house shares.
Whether you're a bashful beginners or an erotic bondage sex toy expert, CalExotics Scandal Beginner's Fetish Kit is your ticket to a wonderland of intense sexy bondage
The silky smooth nipple sucker set is the ultimate in intense nipple stimulation with a full coverage base, powerful suction bulb and flexible silicone material