Right Way to Deep Throat: Best Way to Optimize Pleasure
Posted by mads Finn viuff on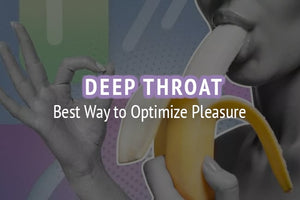 There are many ways of oral but deep throat gives the next level of pleasure. Deep-throating is the action of pulling and pushing a phallus or similar thing (like a dildo) into the actual throat instead of just the mouth. Deep-throating an object or penis goes exactly against that reflex, so it might be regarded as unnatural or like you're choking at first. But as it is going right, bringing both partners on the same page may be the best of pleasures. It would require enthusiasm and skill. And one needs a degree of experience to perform it right.
However, that is not the only case. Because there could be some alternative that you can be pro. For starters, practice is the key. Of course. One who is all new has to practice for reflexes, which is not a problem for only 37% of individuals, and breathing, which arrives mainly with multiple plays. Deep-throating can cause an almost instant orgasm for many men and make you feel like an oral sex superstar.
This handbook like the article will help you deep-throating your man in the correct way to maximize pleasure. You can try it on a banana or dildo or anything similar which does not affect health in any way.
Before that.
Concerns for Health First
Make a checklist for safety concerns. Take care before, while, and after the multiple approaches of all the signs that affect any of the partner's health. Choking, sensing raw, gagging, and vomiting, all of which are unintentional, can be signed to stop. Moreover, STDs while oral sex is also a serious point to sound deep throat.
Avoid Acting Pro at the First Time
A deep throat can feel so pleasurable and can also boast ego. But that is strictly not for beginners. There is quite a bit of method concerned with taking a penis or toy, for example, a dildo that distance into the mouth. Otherwise, it is not good for both who are involved in the practice.
Rights Way to Deep Throating
Well, there could be different ways that are suggested to enhance your deep throat approach. Here are the top tricks mentioned. If you are preferring it, you will have a selection in choosing the right dildo in terms of material, length, texture, and so on. When it's your partner, you got to accept whatever is there.
Lubrication
Start with putting on some lubrication to avoid all the resistance in between. For a good start, saliva is a must. Putting up on lips or him will be a good idea, making a smooth path for both to Deep throat. In case you enable to take his phallus into your mouth sufficiently far, the rear of your throat will start to lubricate with saliva.
Check up on Pace
For a beginner or for a user to person, it's better to start slow. Gradually get easygoing and increase your pace taking the phallus in your mouth. Slowly put on the pedal. This would avoid any reflexes. Continue to slip the phallus into your mouth until you feel your gag reflex kick in. If your companion is the one performing the sliding, be sure to let him know that you've reached a point where you need him to stop, or you will gag.
Align Position
Setting up the correct position during the practice is easygoing for you and your companion. Prefer a  posture with straight alignments from mouth to throat. This way, it would be earlier for the phallus to glide into the throat. Some positions could be standing and on knees, one of the easier positions.  A few deep-throat approaches with position 69. Postures that align a linear line from the mouth to the throat, permitting the penis to go there, are immaculate.
Preserve the Position and then Repeat.
Preserve to the Position as protracted as it is restful for both of the individuals.  Break it down, then relax to prepare for the next round. Repeat the same process again and then one more time. Keep doing it until you are gagging. Each time you do it, you will find yourself that you end up with more time. Also, don't get overwhelmed doing it too much in a day. It could affect your health - which is not acceptable at that time.
Quick Notes
Play with your hands, wrapping around the girth, allowing your lips to take an interest in the process. Utilize your tongue to obstruct the back of your throat. This institutes a cushion like for him to lunge into (and shields your gag zone).
Conclusion
A secret yet to disclose to a fabulous experience is to start talking out this with your companion. Discuss choices and sensing regarding the deep throat. First, it will make you comfortable, and also then, it will help to perform accordingly. When both want it knowing the right thing to do in the right way, it would be an unimaginable experience. The above steps took you far from nothing now. You are all set to try it out.