Best Toys For Gays to Add Spice To Their Life
Posted by mads Finn viuff on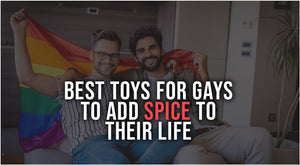 Every human being has the right to live their life fullest by enjoying and exploring some exciting aspects of life. Sexual pleasure is one such exciting thing for people to explore and enjoy. Sometimes routine life gets boring due to the same errands throughout continuous days. Hence, in that case, finding sexual pleasure can be a great idea, especially for men who are too busy with their routine and don't get any chance to explore this side.
The scenario is even worst for men who are gay because either they are alone and if they have any partner, they don't get to explore their sexual pleasure as much as they want to in their routine life. But no need to worry as mysexshop offers you the exotic range of gay men toys which allows you to enjoy the routine life with utmost pleasure and satisfaction.
Best Toys To Explore
Ending Note
The best toys that are described herewith are the best that the mysexshop offers for gay men. However, we have an exotic range of sex toys suitable to the different needs of people. These are shortlisted based on their popularity as well as the range of sexual satisfaction one can achieve. Hence, these are the toys that gay men should look forward to for exciting sexual pleasures.